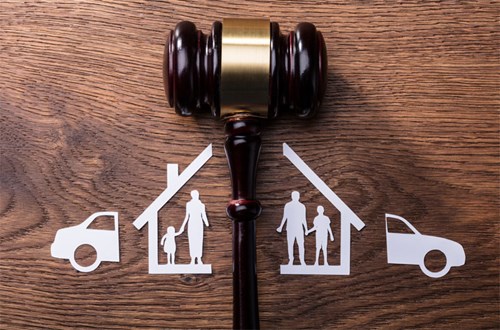 If you're considering a divorce, or have decided that divorce is your only option, there are 5 key stages of the process that you should be aware of. As experts in matrimonial and family law, we've put together a comprehensive summary of the 5 stages of divorce; what to expect at each point, and the legal requirements involved in the process.
From the very beginning of this process, we advise that you seek legal representation as an error at any stage can be costly and sometimes difficult to put right and may leave you in a worse position than you would have been if you had used a solicitor from the start.
Stage 1 – File for Divorce
In order to file for divorce you must have been married for at least one year, and secondly, your marriage must be recognised as valid in the UK.
The first step that your solicitor will undertake is the completion of a divorce petition form.  Your solicitor will provide full advice and support while completing the divorce petition and ensure you have all the relevant documents required. They will also ensure your petition is filed with the court and the court fees are paid.
Stage 2 – Notice of the Divorce Petition
Once the divorce petition is filed, your spouse will receive the completed petition form as well as the notice of proceedings form (which will contain your case number and details of what to do next), along with the acknowledgement of service form.
Stage 3 – Response to the Divorce Petition
Your spouse will need to take advice from a solicitor about their steps from here.
If they agree with the divorce petition, they will be required to fill out the acknowledgement of service form and return it to the court within 8 days. The application can then proceed to the next stage.
If they do not agree, your spouse will still need to fill out the acknowledgement of service form, but will also be required to fill in the part of the form which specifies that they are defending the divorce. They must respond within 21 days, and a court hearing will follow which allows both parties to put across their arguments, via their solicitors.
In some instances, if you receive no response, and can prove the petition has been received, then your solicitor can continue with the divorce proceedings without a response. N.B. This isn't possible in all circumstances.
Stage 4 – Apply for Decree Nisi
The next stage of the divorce process, after receiving the acknowledgement of service form from your spouse, is applying for a decree nisi. This provisional decree of divorce is a document stating that the court doesn't see any reason why the divorce cannot proceed. The court will be expected to carefully examine all of the evidence provided by your solicitor in the divorce application, and verify all of the documents presented. If the court is satisfied that the grounds for divorce have been met, the decree nisi will be granted.
At this point, it's important to mention finances. If both parties' solicitors can reach an agreement to a financial order at this point, it can save a lot of hassle and money in the future, ensuring no unexpected claims from your ex-spouse, and no further legal fees. Another important issue that your solicitor will now address is care arrangements for any children you may share with your ex-spouse.
Stage 5 – Apply for Decree Absolute
The decree absolute is the official document that legally ends your marriage, and your solicitor will apply for it at the appropriate time, after the receipt of the decree nisi. Once you receive your decree absolute, your legal marriage is dissolved.
It's important to note that, while the receipt of the final decree absolute legally dissolves the marriage, it does not include, unless you have previously agreed, any financial settlements or child arrangements. These can be made before, during or can continue after the marriage has officially been dissolved.
If financial and child arrangements cannot be resolved between the two parties, then these will likely proceed to court. This can be an arduous and difficult task where your solicitor is there to guide you through all the required forms, evidence and responses to ensure the best and fairest possible outcome for you.
If there are no current financial resolutions to be made, then your solicitor will arrange a clean break order once the decree absolute is obtained, as this prevents your former spouse from laying claim to any of your earnings or assets in the future.
As specialists in matrimonial and family law, Vines Legal can help make the divorce process as smooth as possible. For a free initial, no obligation consultation, please call us on 01246 555610 for immediate, friendly and professional advice.
By Vines Legal on 6 May 2020, 09:56 AM
Why choose Vines Legal?