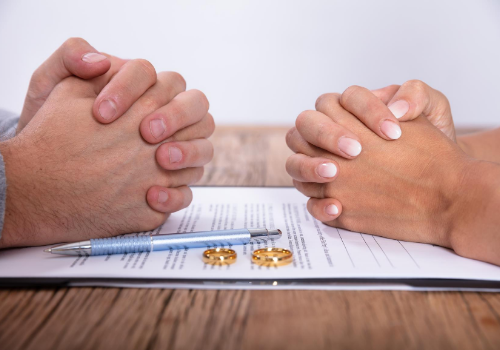 A marriage breakdown can be one of the hardest times of your life; you may be feeling angry, upset and anxious about the future.
With the experience of our qualified, Chesterfield-based Divorce solicitors, we can support you through this emotional time, in order for you to get the best possible outcome. We handle each individual case in a sensitive, compassionate manner and adopt a robust approach where necessary.
Did you know there is only one ground for divorce, which is that the marriage has broken down? This is proven by establishing one of the following five facts:
Adultery - You can obtain a divorce based on adultery if you can prove that your spouse had voluntary sexual intercourse with a member of the opposite sex. It is best to ensure in advance that your spouse will agree in writing that they have committed adultery.


Unreasonable Behaviour – This is one of the most commonly used facts. The behaviour cited, however, must be sufficient to cause irretrievable breakdown of your marriage and must be such that you cannot reasonably be expected to live with that person.


Two years separation by consent of both partners - Your spouse must provide their consent if you wish to rely upon this fact. If your spouse refuses to consent, then you cannot obtain a divorce on this basis. You must be clear that the marriage was at an end before the two-year period starts to run and you must be continuously separated for 2 years.


Separation for 5 years – You can apply for a divorce if you've been separated for at least 5 years, even if your husband or wife disagrees and does not wish to cooperate.


Desertion – This fact is very rarely used. If your partner has deserted you against your will, and you have lived apart for more than a continuous period of two years you can rely on this fact. Desertion is difficult to prove, which is why it is rarely used.
Vines Legal will provide help and advice on your first free consultation and explain in full, all of the options available to you. Click here to complete our enquiries form so we can book you in for your free Consultation, or call the office today on 01246 555 610.