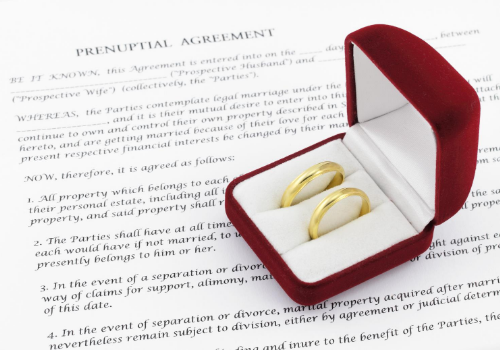 A Prenuptial Agreement is a formal contract that is entered into by a couple freely and voluntary before marriage, civil partnership or same-sex marriage. They allow people who are planning on getting married to set out what would happen if they separated or divorced.
Prenuptial Agreements are not enforceable in UK courts, but recent case law has shown that judges are prepared to give them substantial weight and uphold them, as long as they are drafted correctly and certain precautionary steps were taken when the agreement was drawn up and signed.
There are various reasons why you may want a Prenuptial Agreement, including but not limited to;
Where this may be a second marriage.
Where one party brings significant assets to a relationship or there is an imbalance in the financial provision to be made by both parties.
One or both of the parties to the relationship are more mature.
To protect yourself from being liable for any debts your partner has.
Where provision needs to be made for children or dependants from a previous relationship. 
Vines Legal offer a personal service, providing you with clear explanation and advice on all options so that you completely understand the process. We can help you arrange a Prenuptial Agreement that suits you. 
Click here to complete our enquiries form so we can book you in for your free Consultation, or call the office today on 01246 555 610.