Child Arrangements During the Christmas Holidays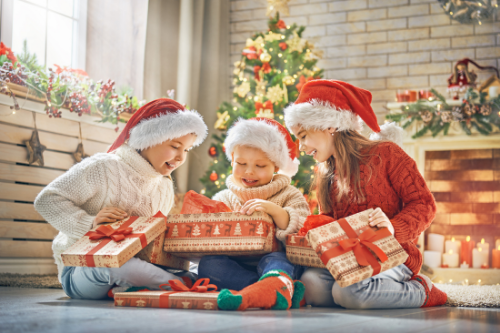 Although Christmas is traditionally a time for celebration and joy, for separated parents it can be a little more complicated. However, there are plenty of ways that you and your ex-partner can navigate the Christmas holidays to ensure it's as enjoyable and peaceful as possible. As experts in matrimonial and family law, we've put together some useful advice on how to make sure everyone enjoys the festive period.
Coming to an arrangement that works for you
For some separated parents, there will inevitably be stresses and difficulties that come with trying to organise the Christmas holidays around two households. It's not always easy to amicably come to an arrangement for the children that everyone is over the moon about.
No, it may not be your idea of a perfect Christmas to split the big day itself down the middle, or have to disrupt your holidays travelling to and from your ex-partners house. But by taking the wishes and feelings of everyone concerned into account, and being flexible with timings and arrangements, it is possible for everyone to enjoy at least some aspects of the festive season.
Of course, everyone's individual circumstances are different, and what works for one family might not be appropriate for another. There's no right or wrong way to approach this; its about finding an arrangement that works best for all parties involved.
What happens if we can't agree?
Unfortunately, there may be occasions when, despite the best of intentions on both sides, you and your ex-partner simply can't come to an agreement about how to organise the Christmas holidays. It's completely understandable that, following a divorce or separation, your relationship has become strained, or methods of communication have broken down. In this case, family mediation may be a sensible option.
Mediation means that an independent, un-biased third person will work with you and your ex-partner to encourage communication that will help you both come to a decision that you're reasonably happy with. Of course, there will be some give and take involved, but reaching an agreement together with the help of a mediator can be both an amicable and constructive approach.
However, should you come to the end of the mediation process and you have been unable to reach an agreement that you're both comfortable with, you can get a family law solicitor to make a formal application to the court requesting what is known as a Specific Issues Order. This order will solely relate to the arrangement in question as an isolated issue, or it may be part of a Child Arrangements Order application which addresses other arrangements too. Rest assured that should we need to formally apply for this type of order for you, the Court will fairly consider the wishes, circumstances, and preferences of both parents, and decide on an arrangement that is in the best interests of the children or child involved.
Advice and support from the experts
Here at Vines Legal, we've got extensive knowledge of Child Arrangements Orders, including Specific Issues Orders, and are well rehearsed in supporting families through these applications. If you are considering a separation, or going through a divorce, and want to ensure that arrangements regarding your children are decided upon as smoothly and amicably as possibly for Christmas and the future, please contact us on 01246 555610 for a free initial consultation. We'd be happy to explain all of the options available to you in a friendly, professional manner.
By Vines Legal on 14 Nov 2020, 17:37 PM
Why choose Vines Legal?