How to Protect Yourself as Part of an Unmarried Cohabiting Couple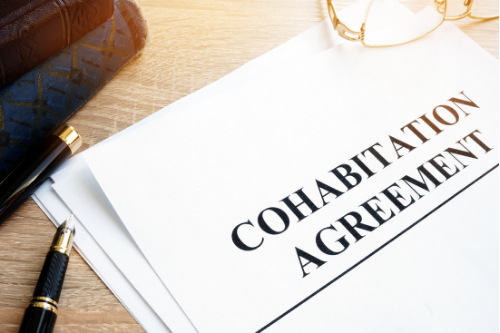 It's increasingly common these days for couples to live together and not marry. As people's priorities, and their preferences on marriage have changed in recent years, it's not surprising that couples choose to live together, or 'cohabit', without tying the knot. Cohabitation can be described as two people who are not married, and not in a civil partnership, living together in a long-term relationship.
Although there's no actual legal definition of a cohabitee in law in England and Wales, the persons involved are still considered as individuals in the eyes of the law. Unfortunately, this can be problematic for cohabitees who decide to part ways, only to find that they don't have the same rights as couples who are married or who are in civil partnerships.
What Rights do Cohabiting Couples Have?
Unmarried couples have no legal rights at all, regardless of how long they have been in a relationship and how long they have lived together. Despite the familiarity of the phrase, there is no such thing as a 'common-law' wife or husband. Unfortunately, unmarried couples simply do not have the same rights as married couples, including an absence of maintenance rights, rights to their partner's pension, and automatic inheritance.  Instead, they have to rely on Trusts Law which in today's society can be viewed as archaic and unfair.
How Can I Protect Myself as Part of an Unmarried Cohabiting Couple?
As experts in matrimonial and family law, we're well-versed in guiding couples through the process of protecting themselves when they choose to live together, but not marry. Here at Vines Legal, we've helped many couples and individuals protect their rights as part of unmarried cohabiting couples. In this instance, a Cohabitation Agreement is the most sensible solution.
Cohabitation Agreements can be drawn up to cover the financial aspects of a couple's relationship whilst they are cohabiting. For example, this increasingly common legal document can be useful for a couple who choosing to buy a property and intend to formalise who will pay certain bills or debts, or when drawing up what shares in the property the individuals will hold. Cohabitation Agreements are also a sensible idea if the couple chooses to have children. And, in the event of a separation, Cohabitation Agreements are a good way to protect both parties.
As experts in Cohabitation Agreements, Vines Legal can provide expert advice and expertise on the matter. For a free initial consultation with our specialist family lawyers, please don't hesitate to contact us on 01246 555610.
By Vines Legal on 11 Jan 2021, 13:48 PM
Why choose Vines Legal?