How to Handle a Divorce Petition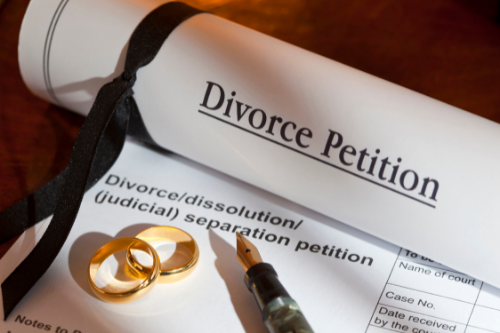 It goes without saying that deciding to file a divorce petition is a huge decision and one that is never taken lightly. But what if you're the one receiving the divorce petition? It's unlikely that being served with divorce papers will come completely out of the blue, but nevertheless, it will still be a shock. The divorce petition is the first formal step that marks the beginning of a divorce, and as the receiver, it's up to you to take the next step.
What Should I do if I Receive a Divorce Petition?
As matrimonial and family law solicitors, we are naturally involved in the process of separation and divorce for many clients and have plenty of experience supporting them through what can be a difficult, stressful time in their lives. If you receive a divorce petition, it may be tempting to avoid dealing with it. But the truth is, ignoring it won't make it go away. The sooner you accept that you will have to act, and decide on a course of action, the better. Whether your separation is amicable, mutual, or more complicated, acting quickly will make the whole process more manageable in the long run.
Seeking Legal Representation
As the receiver of the petition you will become known as "the respondent" throughout the divorce proceedings. Your spouse will be known as "the petitioner". Upon receipt of the petition, you will have 7 days to return the acknowledgement of service form to the court.
At this stage, we would recommend that you take advice from a solicitor. Although the need to seek legal representation can be hard to accept, it is absolutely advisable. Avoiding any errors at all stages of the proceedings is really important, as mistakes can be costly.
What are my Options?
You will need to complete the acknowledgement of service, confirming whether or not you wish to defend the petition. Defended petitions are very rare and can be costly. Most commonly, divorce petitions are not defended, however, depending on the petition, safeguards can be included in the acknowledgement of service to protect the responding party. This is why taking legal advice is so advisable at an early stage.
Matrimonial Solicitors in Chesterfield
If you have been asked for a divorce by your spouse, it's understandable that you'll have lots of questions. Here at Vines Legal, we're experts in matrimonial and family law and can assist you at every stage to help guide you through what can be a confusing and distressing time. For a free initial, no obligation consultation, please call us on 01246 555610 for immediate, friendly, and professional advice.
By Vines Legal on 29 Sep 2021, 11:25 AM
Why choose Vines Legal?