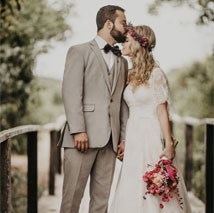 If your Valentine's Day culminates in proposal, will you be considering a prenup?
With Valentine's Day just around the corner, many couples are planning big changes such as moving in together, buying a property, or getting married. Getting engaged on Valentine's Day might seem a cliché to some, but for many it's the perfect day for a marriage proposal. According to statistics, there are an average of 12,100 Google searches each month for 'how to propose', and in February 2018, this surged to a whopping 22,000!
But what about prenups? Often thought of as unromantic documents written up by the rich and famous to protect their assets, prenuptial agreements have become increasingly common in the UK over the last few years. So, are they worth it?
Of course, there's every chance that your marriage will be long and happy. But if the worst did happen, would you want to be prepared? If circumstances were to change, a Prenuptial Agreement would provide both parties with much greater certainty on the outcome of any divorce, and make sure your assets were divided fairly.
If Valentine's Day brings a proposal and it's not your first marriage, it's perfectly understandable that you'd want to look after your assets. Perhaps there are children or dependants involved from previous relationships, and you'd like to ensure their future financial stability? Or maybe there's an imbalance in your financial provision as a couple and you'd like to protect yourself?
Alternatively, if you and your partner have decided to move in with each other this year, and are not quite ready to tie the knot, you may wish to consider a Cohabitation Agreement. Taking the time to draw up a Cohabitation Agreement from the outset can save huge amounts of money on litigation fees in the future, not to mention stress, should a separation occur, and are a sensible way to protect your rights when you live with someone. Not only can you enjoy peace of mind and avoid confusion; future decisions regarding property, money, children, and pets will be pre-determined in the event of a relationship breakdown.
For adxvice and expertise surrounding Prenuptial Agreements or Cohabitation Agreements, look no further than Vines Legal. We offer a free initial, no obligation consultation, for immediate, friendly, and professional advice, whatever Valentine's Day holds for you.
By Vines Legal on 1 Feb 2022, 12:14 PM
Why choose Vines Legal?